Learn How Ketoconazole & Minoxidil Can Grow Your Hair Back!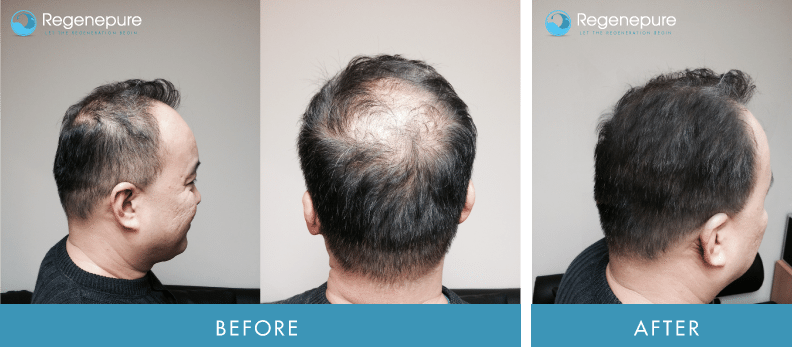 Common Causes of Hair Loss
Hair loss is a common issue millions of people suffer from. It can happen for a wide variety of reasons from gender to genetics. Although there are numerous causes, the major ones are widely experienced by both men and women and have a lot to do with what you're diet consists of, your stress levels and other environmental factors. One of the most common causes of hair loss comes from physical stress or trauma. This type of hair loss is called telogen effluvium, where after three to six months after a traumatic event, your hair can go into shock and release, growing back fully once recovered. Male pattern baldness is one of the most common hair loss causes in men. This cause of hair loss is caused by a combination of your genetics and your testosterone levels. Fortunately, using a topical treatment like Regenepure Precision 5% Minoxidil Spray in conjunction with Regenepure DR Ketoconazole shampoo can help regrow hair in your bald spots with continued use. It's also important to keep your diet in check. A lack of protein, nutrients and fresh fruits and vegetables can cause you to experience hair loss. If you're not eating enough protein, your body goes into 'shock mode,' where it thinks that you're starving, causing the body to ration out the protein levels, and hair to fall out.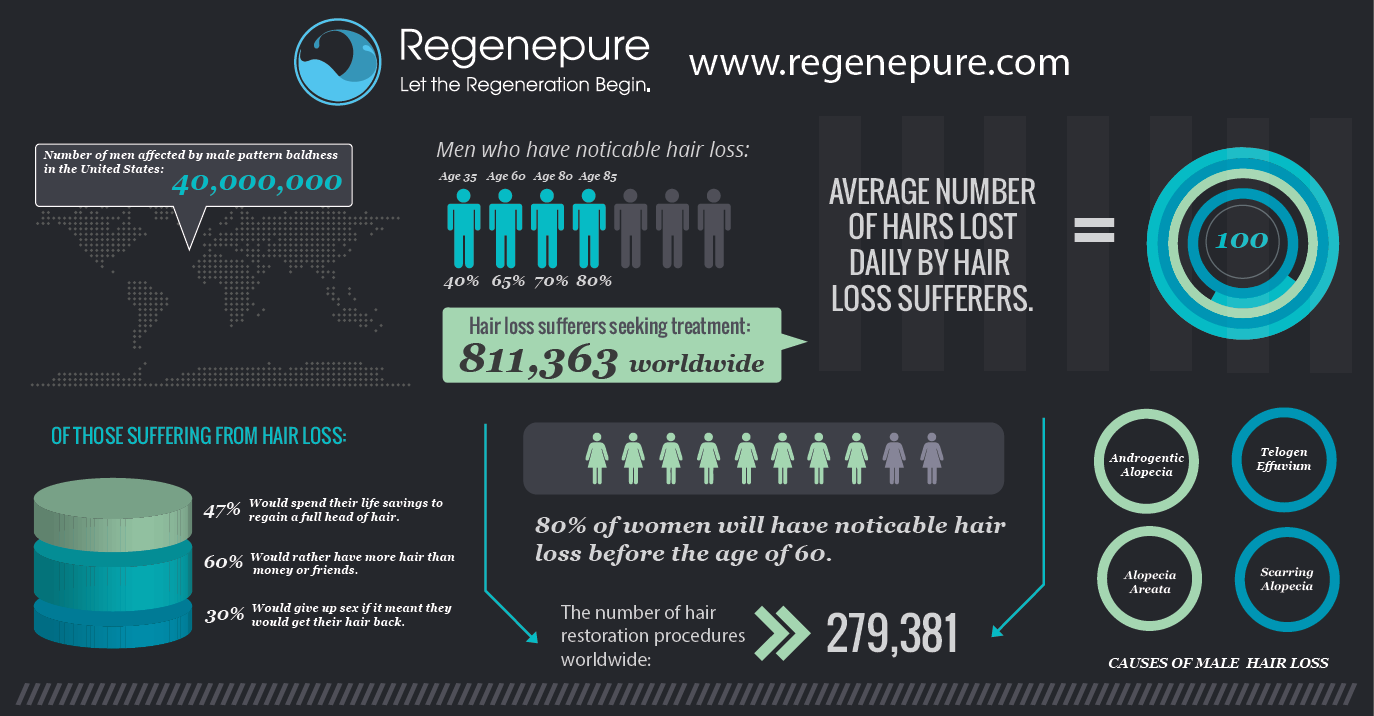 What is Ketoconazole?
Ketoconazole is a powerful antifungal that is clinically proven to curb hair loss. When you have too much waste product from testosterone, also known as DHT, in your hair follicles, it can cause your hair to lose grip within the follicles and therefore fall out and prevent further growth. One of the first necessary steps to take when fighting back against hair loss is to remove the DHT build up on the scalp by using a Ketoconazole shampoo like Regenepure DR. Once this is done, the follicles are clear to absorb any hair loss medication you may be using.  When using a ketoconazole shampoo, such as Regenepure DR, for the first time, it's normal to experience some sort of itching or stinging sensation. That's how you know it is working. With continued use, the itching should subside. It's important to consult your doctor before using ketoconazole, especially if the side effects do not subside.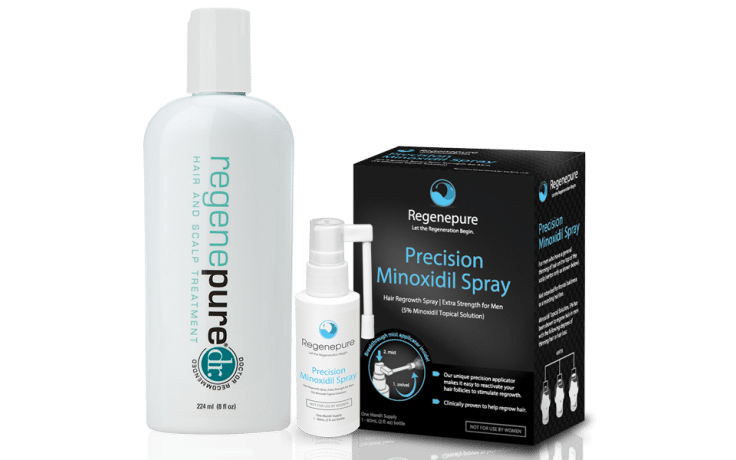 What is Minoxidil?
Minoxidil is the only FDA-approved product for resolving hair loss. It is a clinically proven solution for for those experiencing gradual thinning on the scalp. This powerful solution is called a vasodilator, which causes the blood vessels in the scalp to dilate, which may help improve the function of your hair follicles while stimulating new growth at the same time. For those who experience bald spots or a receding hair line on the top of the scalp, minoxidil, just might be the perfect solution for you. Minoxidil has become a trusted solution for hair regrowth in users across the globe.
Comes in several forms: foam, liquid, dropper, or spray. The easiest form of minoxidil is in spray form, especially Regenepure Precision 5% Minoxidil Spray that has a swivel applicator, as this allows for the most effective and easiest way to apply minoxidil. Foams tend to leave the minoxidil on the hair, rather than getting to the root of the problem at the hair follicles. After applying the minoxidil solution, you must make sure that the minoxidil remains on the scalp for a minimum of four hours without being touched or have any water on it. This means no showering, swimming or vigorous exercise for over four hours. This rule ensures that the minoxidil is properly absorbed by the scalp to give you the most effective results.

How do Ketoconazole and Minoxidil Work Together?
If you're suffering from any form of hair loss, it's important to combat it with the highest strength possible. Combining both ketoconazole and minoxidil together is a powerful way to stop your hair loss and regrow new hair with continued use. These two products perfectly complement each other in solving your hair loss battle. First, ketoconazole shampoo, like Regenepure DR, works to remove the DHT buildup and debris on your scalp and in your hair follicles to reveal freshly clean hair and skin. Then, your head is ready to absorb the Regenepure Precision 5% Minoxidil Spray. Make sure that you wait the recommended four hours before getting your hair wet. This ensures the efficacy of your new hair loss regimen. When combining ketoconazole and minoxidil, your hair becomes a porous sponge, ready to soak up the minoxidil solution to the highest degree. This ramps up the results you will see with continued use.
Regenepure Ketoconazole Shampoo and Minoxidil Spray for Hair Loss
We recently came across the Regenepure brand, which has a full line of hair loss shampoos and products that work to curb hair loss and stimulate new growth. Their most popular product is Regenepure DR, a ketoconazole shampoo that fights against DHT, a waste product of the male hormone testosterone. Once DHT is removed, other nourishing ingredients such as Saw Palmetto Extract, Emu Oil and Vitamin B3, all work together to stimulate new growth while moisturizing the scalp and hair in the process. If you have dandruff or dermatitis, the ketoconazole in Regenepure DR will help relieve you of this problem as well.
After using Regenepure DR, the brand recommends using their Regenepure Precision 5% Minoxidil Spray. The difference between this minoxidil and other brands' is that Regenepure's spray has a unique swivel head applicator that allows for a more effective approach on using the powerful antidote. Every spray is evenly spread without the mess of a foam or dropper, which usually sits on the hair without actually getting to the root of the problem: the follicles. Pairing this minoxidil spray with the effective Regenepure DR ketoconazole shampoo will curb hair loss and help stimulate new growth with continued use.
For more information, please visit www.regenepure.com/hairloss-solutions