How Rogaine Works to Stimulate Hair Growth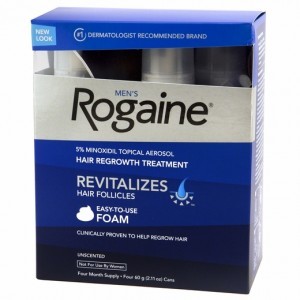 Rogaine is commonly recommended by doctors to help men and women who suffer from androgenetic alopecia, better known as male or female pattern baldness. Rogaine works by promoting hair regrowth and revitalizing hair follicles. The primary ingredient in Rogaine-known as minoxidil-reactivates the hair growth cycle in the body by stimulating shrunken hair follicles in the scalp, brought on by hereditary/genetic factors.  By using Rogaine on a continual basis, most users will notice reduced hair loss as well as the formation of thicker volumes of hair. Rogaine is typically applied twice a day, and most users will notice the loss of their older and thinner hairs. This is perfectly normal, as this allows for thicker hairs to replace them as the shrunken hair follicles are reinvigorated by the minoxidil.
Studies Conducted on Rogaine and Hair Growth
Studies on the effectiveness of Rogaine on hair loss and hair regrowth have been conducted for over 2 decades, with over 20,000 people taking part in clinical trials. The studies found that men who used Rogaine, twice a day, for 4 consecutive months noticed marked hair regrowth. Rogaine is also the first FDA approved product for hair growth for both men and women, and is the number one most recommended brand for hair regrowth by dermatologists across the country.
Rogaine Types and Concentrations
Rogaine is available in a liquid, 2% concentration for both men and women, as well as an extra strength 5% concentration for men alone.  Moreover, an unscented 5% foam version of Rogaine was released in 2011, and all variants of Rogaine are available over-the-counter. It is also important to note that as Rogaine targets hair loss brought on by hereditary factors, it must be taken continually in order to be effective.
Rogaine Side Effects and Limitations
Most people tolerate Rogaine very well, although some side effects have been reported by some users; including dizziness, flushing, scalp irritation, weight gain, facial hair growth, light headedness, chest pain, heart palpitations, headaches, and swelling of the hands and feet. Rogaine is also not recommended for people who suffer from sudden and patchy hair loss as well as baldness that occurs at the front of the scalp. It should also not be used by men with receding hair lines, people under the age of 18, and women who suffer from hair loss after giving birth. Instead, Rogaine should be used by people who have a family history of hair loss.
Alternatives to Rogaine
While Rogaine has been clinically proven to help people suffering from genetically induced hair loss, there are several alternatives to Rogaine currently available on the market. One of the most popular alternatives is Propecia, which, unlike Rogaine, is taken orally in pill form instead of being applied topically as a solution or foam. Propecia is intended for men only, and works by preventing the conversion of testosterone to DHT; an androgen that has been linked to male pattern baldness.
Another alternative is wheat germ oil. Wheat germ oil is rich in protein, and also contains Vitamins E, A, and D. The unrefined oil works optimally when stored in a cool storage area, and a few drops of the oil should be massaged into the scalp daily to help facilitate hair growth. Other herbal remedies include aloe vera massages, as well as drinking copious amounts of green tea. Moreover, stinging nettle roots have also been recommended by some herbalists to stimulate hair growth, while others recommend rubbing red pepper flesh on the scalp in order to stimulate hair regrowth.