Rosemary Oil Reduces Hair Loss and Promotes Hair Growth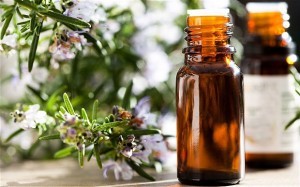 Rosemary oil is often recommended by herbalists to help reduce hair loss, as well as help treat dry scalp and dandruff issues. Rosemary oil helps reduce hair loss not only by unclogging clogged pores but also by nourishing hair roots. To properly use rosemary oil simply take 5 drops and place it in a bowl with some water. Proceed to heat the bowl until the oil is hot and then apply the oil on your scalp. To optimize the effects of the rosemary oil you can wrap your head with a towel to keep the area well heated, and keep your hair dry for at least half an hour before you wash your hair.
Moreover, you should use the rosemary oil massage treatment once or twice a week to obtain positive results. Also, while the rosemary oil, in of itself, has many benefits for hair, performing a scalp massage with the rosemary oil can augment its rejuvenating properties, as a scalp massage can increase blood circulation by both rejuvenating and stimulating hair follicles.
One of the added benefits of rosemary oil is that it emits a pleasant minty balsamic aroma that will leave your hair smelling fresh and clean. Some experts also believe that rosemary oil has the ability to dilate blood vessels and promote cellular dichotomization. As a result, hair follicles are stimulated into producing new hair.
Rosemary Oil Recipes for Hair Loss
For a combination treatment you can use 3 tablespoons of jojoba oil and 5 drops of rosemary oil to create a hot oil treatment.  To create the hot oil simply combine the two oils and insert the concoction into a small jar container that can be sealed and stored. Next, place the jar of oil in a boiling pot of water until the oil reaches a warm temperature. Once the oil has reached a comfortable temperature, gently massage the oil into your scalp for several minutes until your hair is fully saturated with the oil amalgam.  Once you are done with the massage, you can cover your head with a plastic shower cap and then place a warm, damp towel around your hair until your hair has cooled. Once your hair has cooled, you can place another warm damp towel around your head. In total, you should leave the oil in your hair for 30 to 45 minutes. Conclude the treatment by using a parabens and sulphate free shampoo to gently rinse your hair. You can follow with a mild conditioner if desired.
Interestingly, a study published in the Archives of Dermatology found that 44% of patients who implemented a daily scalp massage using jojoba oil, rosemary oil, thyme oil, cederwood oil, lavender oil, and grapeseed oil experienced noticeable increases in hair. If you would like to create an alternative rosemary oil treatment to the one's already mentioned, you can mix one ounce of grapeseed oil with 2 tablespoons of rosemary oil. You can then massage the oil combination into your dry hair and allow the oil to sit for 3 minutes before you take a shower. Yet another, more potent combination, involves mixing together 4 drops of cederwood oil, with six drops of rosemary oil, and 4 ½ teaspoons of jojoba oil. Conclude by massaging the oils into your scalp for 2 minutes and leaving it in all night. You can then rinse your hair in the morning. Moreover, while rosemary oil is non-toxic, and is well tolerated by the vast majority of individuals, it should not be used by people who suffer from high blood pressure or epilepsy, nor should it be used by pregnant women.